So you have now created an online CT600 Filing account with EasyDigitalFiling.com, created your IXBRL Company Accounts and filled in your Corporation Tax CT600 Filing, so how do you actually submit your CT600 to HMRC?
Check your filings
Once you have entered all your data, you need to check that you have cleared all your red error messages.

If you click each message, it will take you to the relevant page and highlight the box(es) where the error has occurred.
Correct your errors and the messages will disappear.
You will also have a number of amber warning messages. These will not stop you filing your CT600 return with HMRC. They are there to act as prompts but also in the cases of the statutory HMRC CT600 declarations, such as the Director's responsibility, accounting standards and audit exemption declaration, require you to accept them. You do this when you set your filings to ready for filing.

Ready to file?
When you are happy with your CT600 filing and IXBRL Company Accounts set them both to ready to file.

Also remember you can download or view your filings at any point by clicking on the Review/Get icon.

What next?
After you have purchased the filing products, you will notice that the credit card symbol has been replaced by a green arrow, next to your CT600 only.

As the accounts are encoded within the CT600, when you submit to HMRC, there is only one submission arrow, which is on the CT600 filing Row.
Click the green arrow to launch the submission dialogue.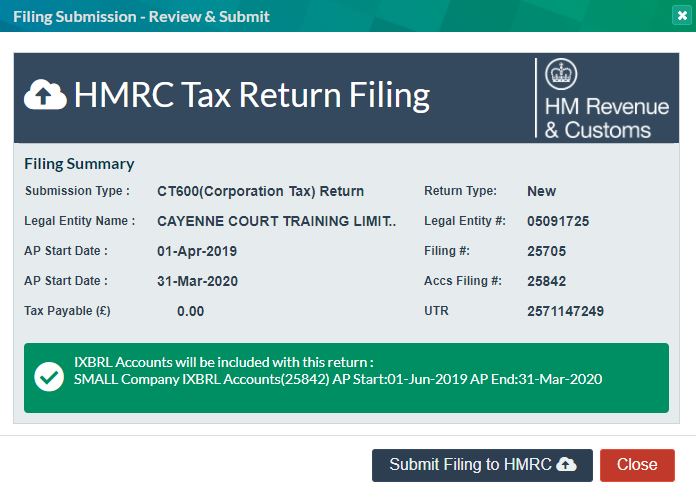 Here you will see in the message that your accounts have been added and ready to be encoded in the submission process. Click the 'Submit Filing to HMRC' and bingo you have submitted your filings! The submission process can take a couple of minutes, but once your filings have been submitted, you will receive an email from us telling you whether your filings have been accepted. You will also see the icon on you filing home page has been updated with an a tick or warning triangle.

If your fillings have been accepted, you will also receive an email or statement from HMRC and in a few days see your HMRC online account updated.
If your CT600 filing was rejected, don't worry! Your resubmission within the accounting period is included in our price. If you click on the amber triangle you will get an error message detailing why your filings were not accepted. If you need further explanation, please do not hesitate to contact us either by online chat or email us.
If you can correct your errors, update your filings, then set both filings back to "ready to file" and go through the submission process again. One of the most common error is 1046 authentication error, this is easily solved.
Once your CT600 filing has been accepted, if at a later date you need to update it, simply log back on and re-submit, all included in the price.
Job done!