The EasyDigitalFiling.com platform was designed to provide company DIY Filing capabilities to the business owner that is normally only in the domain of Accountants. However we recognise that not everyone wants to create their own filings, either not having the time to learn the accounting language, or not fully confident in all the intricacies of creating the returns. That's why we provide a Managed Filing Service to bridge this gap.
What is a Managed Filing?
A Managed Filing is where you provide your company details and end of years figures, and one of our team of specialists creates the filings on your behalf - once you are happy with the filings, we will submit to HMRC and Companies House(If you want to you can do this step).
Is my Company Size Eligible?
We also currently provide a Managed Filing Service for Micro sized Companies, if your unsure if your company falls into this category then a Micro Company must have any two of the following:
A turnover up to £632,000
Assets up to £316,000
Employees up to 10
So a company's turnover could be £5 Million, but if its Assets are less than £312,000, and has 10 or less employees it would be classed as a Micro and would be eligible for the Managed Filing Service.
Your Company should also not have any Research and Development /Enhanced expenditure or be using Directors Loans during the return period.
The reason the Managed Filing Service is aimed at the above sized companies, is that we developed the service with a Fixed Price (we do not charge any extras). If you do have a Small Sized Company and/or with R&D or Directors Loans, we of course will do this for you, but we will need to provide a customised quote in these instances - you may find that if things are straightforward, it ends up being pretty much the same as the Micro Managed Filing cost.
Please contact us if you would like a custom quote.
How do I get started?
To get started with a managed Filing create an account or (if you already have one) logon. If you have already created Filings then you will need to create a Managed Filing (this acts as a wrapper) - you can do this from the Managed Filings menu item on the left of the screen.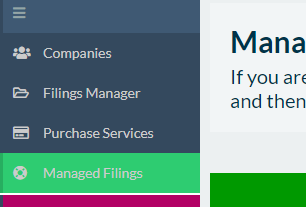 (From that screen click the Get Started button )
Once you have created the Managed Filing, you will need to supply some information. Although our Managed Filing Service takes all effort out of creating your company Tax Filings (and if needed Companies House Returns), we do need some information from you to be able to create your filings. This includes:
Your Company UTR & HMRC Gateway Credentials apply for yours here
Companies House Authorisation Code (if filing with Comp Ho)apply for yours here
Your Income and Expenditure Figures for the return period see below.
Balance Sheet Figures (this stumps many people, so we have a balance sheet helper)
A copy of your previous years accounts(if this is not your first year)
Once you have entered the data into the managed filing form and uploaded supporting documents. Once you are happy, create an order/pay and we will start work on it immediately. We do try to get the filing done in 24 hours, as we like to get everything closed off quickly. We are much busier at the end of the month, and we are reliant on the data/info you provide, so there are reasons that this can take longer. If its super urgent (i.e the last day you have to file), we wil of course try to work that around other, less urgent filings.
What is the balance sheet and what is the Income Statement?
Lets deal with the Income statement first (as its probably the information that makes most sense). If you keep your accounts in a book-keeping system, then you will almost certainly be able to create a report which totals all of your income for the accounting period/return year and all of items purchased. If you are not using a book-keeping system (there is nothing wrong with spreadsheets!), you will need to do the same thing and provide a summed up statement. From your income and expenditure Summary we will calculate your Turnover and taxable income.

We find that the Balance sheet is the main reason why people do not want to create their own filings. It is slightly confusing as it seems not to relate to the real world! However in the accounting world its the financial health of the company. Again if you are using a book-keeping system, you may be able to export a report, alternatively we provide the balance sheet helper.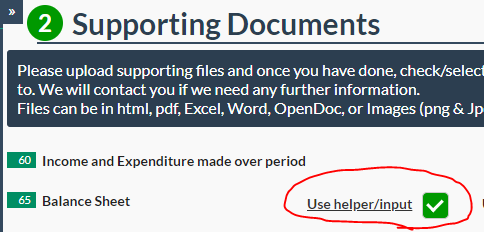 This Helper enables you to input the data that we need, it should be easier to understand what is needed to create a the balance sheet. As you see from below, you need to have your bank balance on the last day of the accounting period (this is the cash in bank ). Any Items purchased during the year (that have a lifespan greater than 12 months), any valid invoices that have been issued for services provided/items sold, but not yet paid - all of these are Assets.
We also need to know that your company is on the hook for, any outstanding loans, Credit Cards, trade accounts etc, that are payable within 1 year and any that are payable after that - these are the Companies liabilities.
The remaining items are, any shares issued (in most cases you probably won't have issued any shares - but just in case), the total amount of any dividends that were paid to the companies shareholders during the year.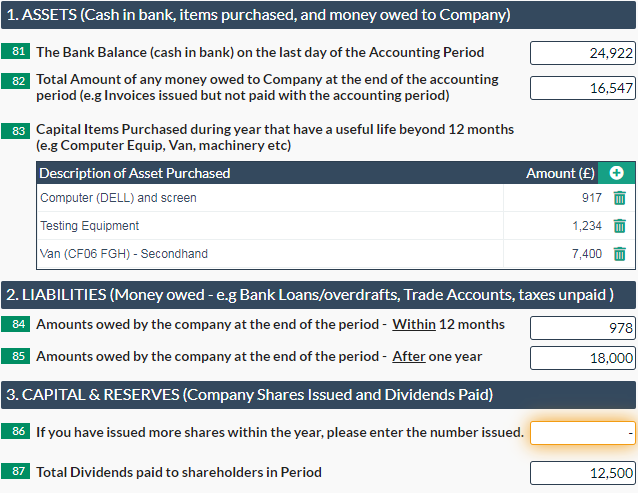 If I have already paid for filings, but now stuck, can I upgrade?
Of course. We will charge you the difference, and get started right away on your managed filings. You may have already input some of the data, if applicable we will create your filings from this base. Just create the Managed Filing (as above) and contact us either using the secure chat or email and we will sort it out for you.
This article is information only and has been prepared for general guidance on matters of interest only, and does not constitute legal, accounting, tax, investment or other professional advice or services. You should not act upon the information contained in this article without obtaining specific professional or legal advice. No representation or warranty (express or implied) is given as to the accuracy or completeness of the information contained in this article, and, to the extent permitted by law, Comdal Limited, its members, employees and agents do not accept or assume any liability, responsibility or duty of care for any consequences of you or anyone else acting, or refraining to act, in reliance on the information contained in this publication or for any decision based on it.