Following on from my article on CT600 Capital Allowances, I am now going to talk about how to deal with fixed assets within your accounts, particularly the balance sheet. Whilst you are reporting on the same items, they are treated differently in the accounts to the CT600.
What are Fixed Assets?
Fixed assets are items that you purchase for your business for long term use. They fall into categories such as land and buildings, plant and machinery, motor vehicles, fixtures and fittings, and computer equipment. For corporation tax purposes the full value is generally deductible against your corporation tax liability, the maximum amount you can claim varies from year to year. See HMRC's website for the amount per year. In your accounts fixed asset items are added as an asset on the balance sheet and depreciated over several years.
Depreciation
Depreciation is the rate at which your fixed item devalues over its useful life. The useful life of an item for the business will depend on the item type. Computer equipment may only have a useful life of 3 years, where as a company van may have 5 years and plant and machinery may have a lot longer.
There are two types of depreciation - straight line depreciation and reducing balance depreciation.
Straight line depreciation is where you reduce the value of the item over its useful life. For example, if you buy a laptop for £1200 and decide it's useful life is 3 years, you would depreciate it at £400 per year (£1200/3 years).
Reducing balance depreciation is used for fixed assets that you expect to depreciate faster in the first years after purchase. You would use this method for items such as vehicles.
If you bought a new van for £30,000 and decided it would lose 30% of it's value in it's first year, you would depreciate it as follows:
| | | | |
| --- | --- | --- | --- |
| year | value start of year | depreciation | book value end of year |
| 1 | £30,000 | £9,000 | £21,000 |
| 2 | £21,000 | £6,300 | £14,700 |
| 3 | £14,700 | £4,410 | £10,290 |
| 4 | £10,290 | £3,087 | £7,203 |
| 5 | £7,203 | £2,161 | £5,042 |
Each year the remaining amount depreciates by 30%, the highest depreciation being in the first year.
Reporting Fixed Assets in your Accounts
For Micro Companies the reporting is quite straight forward as you only have to record the value of your fixed assets on the balance sheet. Therefore in the EasyDigitalFiling.com balance sheet template, you just record the value of your assets after taking off depreciation.
For example you have purchased a new laptop for £1200 and are depreciating in over 3 years. At the end of the first year your laptop would be worth £800. You would record your fixed assets value as £800.

If you also had the van from the example above, that you purchased a year ago, so that it is in the second year of depreciation. At the end of the second year it would be worth £14,700. Therefore your total fixed assets value for the laptop and the van would be £800 + £14,700 = £15,500

Now you have taken off your depreciation for the year, you need to show it as an expense in your profit and loss account. For the example above, you have depreciation of £400 for the laptop and £6,300 for the van, giving you a total depreciation of £6,700.
If you go to your profit and loss page in your accounts template, you enter this amount in the other expenses section: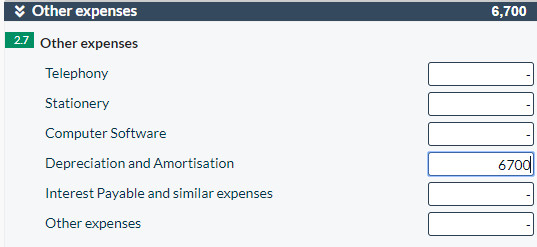 Disallowable Expenses in CT600
The final part of the fixed assets reporting is to adjust your tax in your CT600. As you have already used the cost of your fixed asset in your capital allowances, and had your corporation tax liability adjusted accordingly, you can not use the depreciation expense as part of your operating costs (otherwise you would be claiming the cost twice).
To do this go back to your CT600 and under the Supplementary Sections select Box 100 - disallowable expenses.

Then on this page added in your depreciation expense in box 10:

And that is it - job done!